Beacon Hill Apartments Still Scarce
.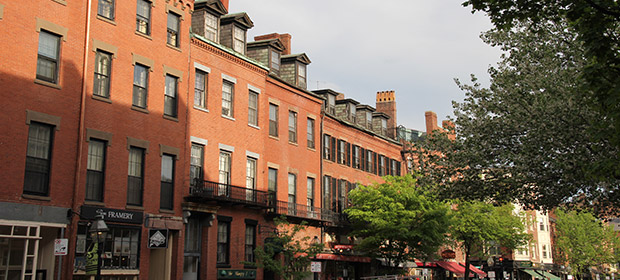 BeaconHillPads.com
, it was found that the Beacon Hill Vacancy Rate stands at 1.09%. Of the 1373 total listings in Beacon Hill, 15 are currently available for rent. Beacon Hill also has several Luxury buildings, but the vacancy rate for these buildings fluctuates at a greater rate than Beacon Hill as a whole. For this reason, they were purposefully omitted from this study in order to provide a higher degree of real time accuracy.
Beacon Hill is one of the most prestigious and desirable districts in Boston. Roughly one square mile in area, its beautiful tree-lined streets, cobblestone roads, and authentic gas lamps draw attention from renters far and wide. Beacon Hill is located near Downtown Boston and shares its southern border with the Boston Commons. It is also bounded on the west by the financial district, to the south by Bay Village and Chinatown, and to the west by Back Bay. This central location allows easy access to many of the city's most sought after destinations.
Beacon Hill was founded as a haven for residents who were willing to pay more to live in less densely populated areas of the city such as the North End. Over the years, the district has seen many prestigious inhabitants including Henry David Thoreau and Daniel Webster. In order to preserve the historical look and feel of the neighborhood, the residents petitioned to have Beacon Hill classified as a Historic District; finally gaining that status in 1955.
Beacon Hill has many points of interest that add to its desirability as a place to live. Its proximity to the Boston Commons affords residents a wide-open green space to walk around, relax, or indulge in athletic activities. Tennis courts, Baseball fields, and basketball courts can all be found throughout the Commons. Back Bay is less than a mile away from most points in Beacon Hill; residents will find that getting to Newbury Street for fine shopping or dining is a breeze. Faneuil Hall and the North End are close as well. Although it is not necessary for most trips, three MBTA Subway lines are easily accessible from Beacon Hill. Residents who wish to travel deeper into the city, up to Cambridge and Somerville, or to points west will have no problem doing so. Finally, the beautiful Esplanade overlooking the Charles River is a stone's throw away.
The low vacancy rate should encourage renters and landlords alike to enlist the services of the real estate experts found on
BeaconHillPads.com
. Owners can receive up-to-the-minute market analysis to competitively price their vacant apartments. Renters will find it easier to work with the company that holds the most listings in one place. Agents can also help renters find unlisted luxury apartments year round.
BeaconHillPads.com
is the largest real time apartment website in Beacon Hill, MA with over 1,373 apartment listings. BeaconHillPads is part of the
BostonPads.com
network, the largest apartment database in New England with more than 14,518 landlords in the Greater Boston Area To learn more about the Beacon Hill real estate market, check available listings, explore investment opportunities, or get in touch with a qualified agent, visit 
BeaconHillPads.com