Establishing A Home Buying Timeline
.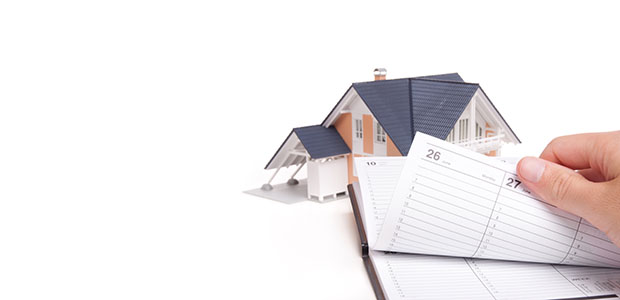 Buying a home can be a lengthy process. The best way to tackle it is by breaking it up into manageable chunks. If you look at it month-by-month, home buying will see much less stressful.
In fact, the first step to buying a home doesn't even involve any shopping. Once you decide that such a large purchase is in your future, start looking at your credit. You are entitled to one free credit report per year, so request one. The higher your credit score, the better your mortgage rate.
To have enough time to enhance your credit, starting a year in advance of buying a home is best. You'll also need a number of months to correct errors and inaccuracies on our report, if they exist. Take the first month to evaluate your credit score—let's say you start in March. Your timeline from that point on should look somewhat like the following: April – Assess your debts, and figure out what you can afford. See if you prequalify for a mortgage, and increase your savings, if need be.
May – Decide what kind of home you need. Things to consider include transportation, nearby schools, and amenities. Make a list of "must-have" items, which will take priority as you shop. Creating a list of amenities you want but don't need will help you narrow down your options.
June – Research the local housing stock. Visit neighborhoods where you would like to live, and find properties that fit your wants and needs. You can also view homes online, but you should also take the opportunity to interview other homeowners.
July – Find a real estate agent. They can be a wonderful source of information during the home buying process. Before hiring your agent, come up with a list of questions to ask them. Share your "must-have" and "nice-to-have" amenities with them, as well as your timeline.
August – Research other professionals, including lawyers, home inspectors, and insurers. All of these people will be involved in the home buying process, and you'll need to find ones that fit your needs.
September – Organize your paperwork. You will need at least two years' worth of tax forms, as well as asset statements and income statements. If a family member or friend is giving you money, they will also need to provide a gift letter stating that you have no obligation to pay them back.
October – Research money lenders, and get preapproval. This will allow you to shop and negotiate more effectively with a seller. You cannot get an appraisal until you have executed a sales contract on a property, but preapproval can show that you are a serious bidder.
November – Reach a sale contract, and fill out all mortgage-related paperwork.
December – Get ready to move. Give proper notice to your landlord, and find out whether you need to transfer or terminate your utility service. Decide whether you will hire moving professionals, or do it yourself.
January – It's moving time! Pack, find out your closing date, and schedule a final walk-through of the house before signing the closing paperwork.
February – Establish a contingency plan. Even with a year's worth of preparation, the home buying process can still go wrong.

www.jacobrealty.com recommends having a plan B in case things don't go as you expected. This may include an emergency fund, living arrangements, and storage for your property.