Kitchen Space Hacks
.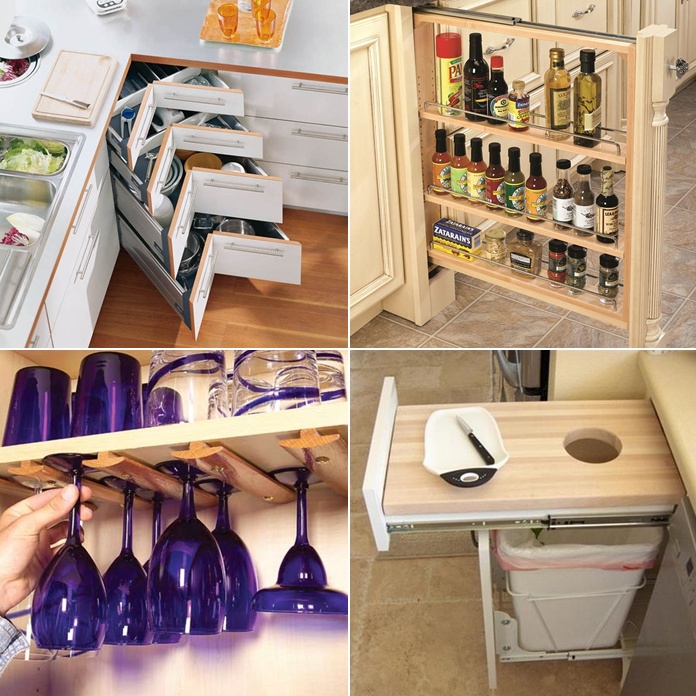 Boston apartments are unique in every way, and that is especially true in the kitchens. You never really know what you will get when you go to view an apartment. Sometimes photos make spaces look much much bigger than they are in real life and others, you might be pleasantly surprised with the amount of space. If you found the perfect apartment that has everything you need, except ample kitchen storage space, fear not. When it comes to apartments for rent in Boston, compromises must be made. Let kitchen space be one of the things you give up because you can turn your kitchen into a DIY haven of space-saving life hacks. Below are some of our most valued and time-tested kitchen space hacks.
1. Use the insides of your cabinets: The inside of your cabinet is an underrated place, often forgotten about. In this space, you can hang boards to write on, notepads, pen holders, etc. Some Pinteresting ideas are also floating around where people have put metal sheets or small white boards on the inside of the cabinet door (temporarily, yet secure) and attached magnets to things like spices, nuts, and candy jars.
This hack will only work with the shape of your cabinet, though. If you choose to put a whiteboard on the inside of the door, but there is no space between the shelving and your cabinet door, then you may end up with a cabinet that will not close. If that is the case, you might want to try the 3M removable wall hooks and hang things like measuring cups, etc. These can hang between the shelves and will not interfere with your cabinet's functionality.
This hack is particularly useful in the under the sink cabinet or a similar large cabinet with a lot of open space. You can attach little plastic baskets and holders with 3M wall strips for things like sponges, brushes, etc.
2. Bring back the peg board
: Pegboard is one of the most classic and cheapest ways for merchandisers to display their products. It's also a man cave favorite for garages everywhere. However, pegboard can also be spruced up to look nice in your kitchen. It provides the most variety in arrangements and allows for limitless creativity in design.
Try spraying your peg board with your choice of paint, such as Rust-Oleum Satin Oil Rubbed Bronze. You can also spray the hooks so they will also look nice. Then attach the pegboard to your wall somewhere in the kitchen as if it were a picture frame or any other normal wall decor (if your lease allows for this kind of thing). Place the hooks where you need them and hang pots and pans, cooking utensils or anything else you might want to display there.
3. Metal is your friend: The best quality of metal is that it is magnetic. You can use magnets in a wide variety of places throughout your kitchen. Forego the knife block and get a metal knife holder, like this one that only costs $12 from Amazon. Put the knives on your wall and free up some drawer space. Plus then you will have easy access for all that fine cooking you will be doing.
You can also turn your fridge into a spice rack by attaching magnets to the lids of your spice jars. You might also consider attaching magnets to a basket and create a space to hold your larger spices, cooking utensils, etc.
4. Expand your countertop: If your counter space is limited, there are ways to give yourself more of it. Simply get an over the sink cutting board and use it for anything you like. Setting things down or cutting, you will have another spot that counts as a countertop. Another option is to get a rolling kitchen cart, but not everyone has room or the budget for those. 
5. Organize your cabinets: You have a few options to organize your cabinets more effectively. Some will take some minor DIY skills and others will just require some creativity with household objects. The first option is to simply put shelving within shelving and buy all the kitchen organizers the world has to offer. These usually never actually fit your space perfectly though, and sometimes cause you to lose precious space. The second option is to make your organizers yourself.
Making your own cabinet organization is not as hard as it seems. It just requires some geometry and a trip to Lowe's. We got our inspiration from this step by step guide to DIY Custom Wood Drawer Organizers. But basically, you need 2.5" x ⅛" poplar board (hobby board), wood glue, square tool, measuring tape, a ruler, pencil and graph paper. The DIY project idea we used to create our organizers says you need a saw. You can choose to cut the boards yourself, but slightly little-known pro tip: if you bring all your measurements with you when you buy your wood, the store will cut it for you. You never have to touch a saw.
To begin your project, measure out your drawers and cabinets. Draw them in 2 dimensions on your graph paper. Then design what you want your organizer to look like and take measurements inside the drawer again. Diagram your whole plan and write down the lengths of each piece of hobby board you will need. Add up the lengths to find out the total length of wood you need and take your plan to Lowe's. Grab as much wood as you will need and ask an employee if someone is available to cut the wood for you.
When you get home with your pre-cut wood, simply glue together your design using the square tool and slide it into place. When you move out, ask your landlord if they want to keep them. If not, take them with you and hope they fit some drawers in your next apartment.
For more life hacks, check out Buzzfeed or any number of DIY sites. These are the simplest and most effective hacks we could find for your Boston apartments. Share this with your friends to help them save on their kitchen space too!