Boston Real Estate Professionals
Meet the Jacob Realty Team
---
Demetrios Salpoglou
CEO
Demetrios Salpoglou, Broker of Record, initially launched his career as a licensed real estate agent in 1994 after graduating American University in Washington D.C. As the potential of the Dot-Com era started to rapidly grow, he was offered an opportunity to join the high-tech industry as a software development sales executive. He went on to launch several software companies before the tech bubble burst. In 2001, Salpoglou returned to the real estate industry and acquired Boardwalk Properties in 2003. He worked tirelessly to revamp its operations, implement new technologies and trailblaze an unparalleled level of speed, transparency, and integrity into various real estate processes. Fusing technology with real estate proved successful for Salpoglou; he continued to buy out offices including NextGen Realty in 2004, Jacob Realty in 2005, opened a second Boardwalk location in 2009 and acquired Douglas Paul Real Estate in 2015. Demetrios owns more than 80 local real estate websites and has developed several proprietary software applications. His systems and software have transformed the apartment leasing and sales process for landlords, property managers, consumers, and real estate agents.
Demetrios has been instrumental in the exponential growth of six leading real estate offices in the Greater Boston Area. His vision of making scalable and highly collaborative software has assisted multiple offices and agents to form the largest apartment leasing team in Massachusetts. Through his vision and framework he has been widely regarded as an innovation leader in the multi-family sector and helped procure more apartment rentals than any brokerage in New England's history.
Salpoglou expanded the services of BostonPads.com in 2010, which today is its own standalone information technology company. As CEO for Boston Pads and the broader portfolio of real estate businesses, Salpoglou is responsible for: new product development, optimizing company business models, monitoring all web content and activity, creating innovative marketing campaigns, search engine optimization, organizing and displaying real time data, press and media relations, recruitment of talent, managing and developing all training programs.
Mr. Salpoglou is actively sought by the press and media outlets for matters pertaining to the multi-family industry. Demetrios has been involved in several television appearances as well as quotes in prominent local and national news organizations. Mr. Salpoglou has a very large social media following of nearly 40,000 people across multiple platforms. Demetrios is an dedicated blogger and receives thousands of views per week on the content he generates.
Demetrios is an avid real estate investor and developer and in was appointed to the Mayor Walsh's project review committee (PRC) for Plan Dudley Square in 2019. Most recently Demetrios joined the Forbes Real Estate Council. In addition to being a licensed broker, he is also a certified Massachusetts real estate instructor. During his spare time, Demetrios is a passionate sport fisherman and cherishes his time with family (his wife and two children) and friends.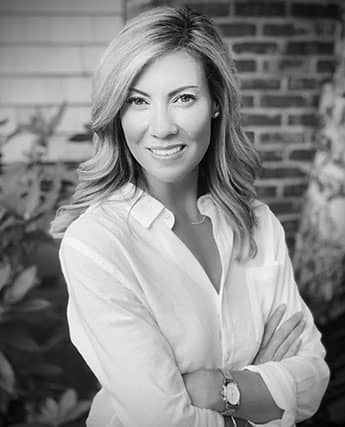 (617) 595 0094
Aubrey @backbaypads.com
Aubrey Liss
VP of Business Operations & Investment Sales
Aubrey Liss has been a licensed real estate professional since March of 2004. Beginning her career on Cape Cod at an international real estate chain, she succeeded in one of the busiest markets. Selling mostly single family homes in Barnstable County, Aubrey was a quick study. Looking to expand her knowledge and advance in the industry, Aubrey relocated to Boston in early 2005 and began working with Jacob Realty in executive operations.
With her experience and expertise in sales, Aubrey, along with fellow managers, successfully cultivated the sales team of Jacob Realty. As Director of Operations since 2006 for Jacob Realty and four cooperating offices, Aubrey stays engaged and well informed regarding the latest market trends in both investment and residential products. Completing numerous sales transactions alongside managing and purchasing a diverse property investment portfolio, Aubrey continues to play a vital role in Jacob Realty's expansion from a successful boutique real estate office into a well-recognized leader in investment grade and residential sales.
Today, Aubrey guides investors and homeowners in whatever their real estate needs may be. Living in Newton while working and owning in Boston has given her the opportunity to be in both the city and the suburbs, continuing to improve her skills in a wide array of markets. Aubrey has a keen interest in studying the latest construction and interior design trends and has been instrumental in helping many owners reposition their assets into more profitable income-producing investments.
In addition, Aubrey provides strategic oversight on design layout, as well as cost-effective strategies such as condo conversions, buy and hold, and quick modifications for maximum returns based on the specific needs of her clientele. As an avid investor herself, she continues to progress in the field while informing others of her findings in new, up-and-coming areas, construction, and permitting experiences.
(617) 270 5308
Anthony @backbaypads.com
Anthony Tse
Managing Director, Investment Sales Specialist, & Commercial Leasing
Anthony Tse began his real estate career as a top producing real estate agent in 2003. He was quickly promoted to office manager where his duties included day-to-day operations, training newly licensed agents, and introducing them to the large and extensive Boston real estate market. The office set new company records under Anthony Tse's management.
Due to the success of his team, the principals of the company, Demetrios Salpoglou and Yuan Huang, eager to expand and grow as well as retain this young top producer offered Mr Tse a partnership stake with newly acquired Jacob Realty in 2005. That came with the title of Director of Leasing Operations overseeing $70M+ in leases across all 3 brands: NextGen Realty, Boardwalk Properties, & Jacob Realty. As a founding partner, Anthony helped create the successful Jacob Realty brand. Focusing on the expansion and development of the commercial and sales department, the sales volumes under Mr. Tse's custodianship saw a 250% growth from the previous year. Mr Tse has since become one of Boston's most well known real estate agents. During Mr. Tse's decade plus tenure with Jacob Realty, he has managed, closed, and secured over $100+ million in gross sales.
Anthony's real estate skill set is diverse. He currently specializes in 3 different business lines: homes, investments, & commercial. In the residential sector, Mr. Tse has successfully secured winning bids for home buyers in a tight inventory market as well as set market records on the list and sell side of residential home sellers.
For investment grade real estate, Mr. Tse has widespread knowledge of the urban core areas of the Boston market as well as neighborhoods in the Greater Boston areas. Mr. Tse focuses on strong submarkets and sourcing real estate assets that create excellent returns for his discerning investor clientèle. Mr. Tse has helped several investors build a high performing real estate investment portfolios by offering advisory to help stabilize assets. Mr. Tse has also helped his investors by divesting real estate assets at the top of the market. Mr. Tse continues to provide investors with valuable information, advising on future acquisitions and portfolio repositioning.
In the commercial sector, Mr. Tse has also successfully placed many businesses into their space via lease advisory or real estate acquisition, strategically handling the most delicate negotiations. Mr. Tse's commercial clientèle consists of the city's many top-tier businesses along with restaurant & beverage groups. Mr. Tse's commercial acumen allows for a diversity of complex transactions such as business sales, liquor license transactions, commercial leases including office, industrial, retail, & restaurant space, and investment/divestment of commercial grade real estate.
Mr. Tse earned a Bachelor's of Science in Finance and Accounting from the University of Massachusetts in Boston while working a full time job. Inspired by his mother (who is a two time Leukemia Survivor), Mr. Tse's philanthropic endeavors include the Chinese Bible Church of Greater Boston, Leukemia & Lymphoma Society, American Diabetes Association, and Mass General Hospital.
Christos Salpoglou
Investment Sales Specialist & Senior Associate
Bio Coming Soon!
(617) 852 7052
LHoullahan @jacobrealty.com
Linda Houllahan
Commercial/Industrial Sales Specialist & Senior Associate
After 22 years working in New York City on Wall Street, Linda returned home to Boston and joined Jacob Realty. Here she specializes in private off-market commercial investment opportunities for her clients. Linda received her undergraduate degree from Trinity College in Hartford CT and her MBA from Yale University's School of Management. She grew up in Winchester and currently resides in Lexington.
Julie Longtin
Associate-Broker / Realtor Consultant
Julie Longtin has been a leader in the Real Estate Industry for 30 years. Within her tenure, she has been a licensed Real Estate Appraiser, Licensed Real Estate Instructor and Coach, and a top Residential and Commercial Broker. She is the recipient of many National and prestigous awards including RE/MAX Hall of Fame, top 10 Powerbroker by publicly traded CoStar Commercial Group. She has enjoyed many roles of Manager, Owner/ Consultant for portfolio investment management, property management and investor relations. Maintaining a Real Estate Brokers license in Rhode Island and Massachusetts, Julie currently holds the designations of Certified Real Estate Negotiator Expert (RENE), Commercial and Investment Real Estate Certified (CIREC), member of CCIM institute and Board of Directors Secretary and Treasurer for the Multiple Listing Service.
Julie also has vast experience with highest and best use studies, multiple unit development, design, re-use analysis, and expert testimony. She has been published and quoted in national publications such as MONEY Magazine, Providence Business News, Better Homes and Gardens, and property profiled on the TODAY show. Contact Julie for a customer centric real estate experience.
(617) 917 5803
Dalvarado @jacobrealty.com
Daniela Alvarado
Leasing & Finance Manager & Senior Associate
Daniela Alvarado began her real estate career while still attending Northeastern University, during the summer of 2016. She started with the intention of being a part real estate time agent while she went to school, but almost immediately found her true passion in real estate. Daniela is a quick study, motivating and managing teams in innovative ways to benefit their financial growth and increase their overall efficiency and branding. Her true passion is cutting edge marketing and luxury leasing and sales. Daniela's relentless drive to seeing projects advance through tight deadlines earned her a rapid ascension to the Vice- President of Marketing for Boston Pads.